If Pete Muldoon wins the Mayor's race, he will concentrate on a variety of issues including a renter's bill of rights and funding the Redmond Street Rental Housing project.
If Sara Flitner is reelected, she will set her sights on finishing the land development regulations and bolstering social services for residents.
The two are facing each other in November's general election after besting Mark Obringer and Stephan McDonald in last week's primary.
Throughout the campaign, jacksonhole.media will be posing questions to the candidates and let them answer in their own words, unedited.
Question for Pete Muldoon: If you are elected Mayor, what are the first ten things you would do as the Town's top official?
PM: In no particular order, and I'm sure I'm leaving some things out.
Passing a Tenant Protection Ordinance to give renters some rights.
Establishing town housing and transportation trust funds for the Town's share of the additional 1% sales tax
Passing an ordinance banning sexual orientation and gender identity discrimination
Finishing LDR's while following the Comp Plan's limits on commercial growth
Amending the Snow King Master Plan to safeguard the Town Ski Hill and bring the housing mitigation in line with the rest of town.
Increasing the workforce housing mitigation requirements on new development, especially development with low-wage job growth.
Preparing a short-term housing solution for next summer utilizing the ideas we developed at ShelterJH.
Getting Jackson certified as an Age Friendly Community.
Fund the Redmond Rentals affordable housing project
Identify suitable affordable housing properties in town and purchase them, then place the construction projects on a SPET ballot.
Expanding access to quality day care for town residents.
Question for Sara Flitner:  If you are re – elected Mayor, what will you focus on in the new term?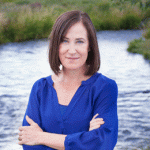 SF: Results. People want them faster, and so do I. Looking back, I am proud that we unified housing efforts, wrote a housing plan, hired a director, and are putting the finishing touches on a supply plan. Those actions will mean results for middle and working classes and protect community balance. I will continue to work through the LDR's with balance, fairness and compromise and get through them all next year.
I will identify better ways to support the social services in our community. They say we should be measured by how we treat kids and old people. That's a good measure.