Astrophotographer Michael Adler will give an artist talk titled, "Images from the Sun & Moon to Deep Space," on Thursday, April 19 at noon in St. John's Professional Office Building.
Adler's talk will highlight 12 images he recently donated to the medical center. They are currently being exhibited in the Professional Office Building on the hospital campus. Additional images are on display at St. John's Urgent Care.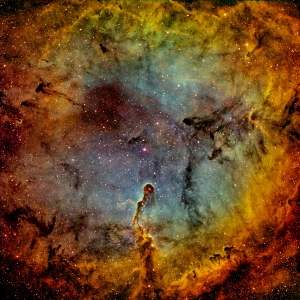 "We are delighted to have these ethereal and inspiring images as part of our collection," said Rachel Merrell, director of development for St. John's Hospital Foundation. "With Mike's gift, we are helping to further our mission of bringing healing art to our community."
Adler will describe the observatory in Wilson where all of the images were taken, as well as the process he used to take them. The photos, printed on metal, range from images of the sun — taken in multiple short exposures during last August's eclipse — to images of deep space nebulas and galaxies 2.5 million light years away that took 40 hours to complete. Adler will discuss the subjects of each of the images, including what they are, their size, distance, and other pertinent details.
The talk will take place in the Innovation Center (suite 206) at St. John's Professional Office Building, 555 E. Broadway. The room is accessible through entrance E. A light lunch will be provided.
Please contact Rachel Merrell, at rpmerrell@tetonhospital.org or 307.739.7529, to reserve your space by April 17. Free and open to the public.