The Bridger-Teton National Forest reports that a new fire is burning in the Bridger Wilderness on the Pinedale Ranger District.
The Skull Lake Fire was discovered by hikers passing by on Wednesday, August 07, and called in to the district office. Teton Interagency Dispatch Center sent a Type 3 helicopter to locate and size up the fire.
The fire is currently 1/10 acre in size.  It is located in a remote, rocky area approximately ½ mile south of Skull Lake, east of Washakie Creek, and two miles north of Marms Lake. The fire is burning in a single tree and creeping and smoldering in the duff. This lightening caused fire was likely started during one of many recent thunderstorms.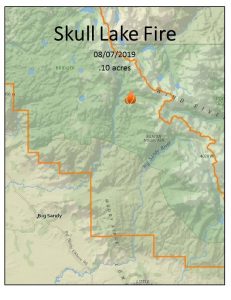 Fire managers intend to periodically check fire activity on the Skull Lake Fire and prepare long-term management plans that address firefighter and public safety, as well as the protection of backcountry users. No suppression action will be taken at this time.
Smoke from this wildfire may be visible to visitors in the southern end of the Wind River Range.
For more information on this and other fires in the Teton Interagency area, visit www.tetonfires.com or call the Pinedale District at 307-367-4326.