The Jackson basketballers begin conference play with a bang. Nothing like traveling to your longtime archrival's building Friday night to begin play in the 4A against Star Valley in Afton. Then it's a quick turnaround to host the Green River Wolves in Jackson Saturday afternoon.
Friday's matchup with the Braves
As storied a rivalry as this is, both the Jackson boys and girls can head to Afton knowing they could come out of that hostile environment with a win.
Numbers don't lie but they don't tell everything. Even though the metrics heavily favor the Braves, this Star Valley team is not the best coaches Paul Kabonic (boys) and Kade Erickson (girls) have put on the floor compared to most years.
Star Valley has Jackson's number in all-time matchups over the past decade or so. The Broncs have not beaten Star Valley since 2018, and have managed just 9 wins in the last 35 games with the Braves.
For the Lady Broncs, the drought has been even longer. The Jackson girls have not beaten the Lady Braves since 2009. They are 0 for their last 27 tries against Star Valley.
But 2021-22 is different. The Star Valley boys are 2-8 on the season, averaging a dismal 47 points per game (14th worse out 0f 16 teams in the conference). They don't shoot particularly well and their defense is average.
"Their record doesn't show it right now but they have a lot 0f talent on that team," Jackson coach Hayden Hatfield said. "Kids like [Croix] Jenkins at 6'6" matches up pretty well with Gavin [Keelin at 6'5"]. They'll be going at it pretty good under the basket this Friday. They got a few good guards. They just haven't put it all together yet."
Meanwhile the Jackson boys are riding a 3-game winning streak and looking like the most dangerous team currently ranked out of the top 10 in 4A.
If the Lady Broncs were looking for a game that could get them feeling better about themselves, this Friday's matchup with Star Valley is it. A chance to exorcise some demons for players like Karsen Breeding, who says she has never beaten the Lady Braves yet—on the basketball court or the volleyball court.
The Lady Braves (3-6) shoot the ball atrociously, making a league low 29% of their shots from the field. Their offense is ranked second to last. But this team has always played good defense, and Star Valley leads the league in steals.
"It's always a tough one when you play Star Valley. They are going to play hard at home and we are never going to get the calls," said coach Andrea Joyce. "We will press them a little then fall back into the 1-3-1 zone. It's kind of hard to find a team that shoots it worse than we do. Hopefully we can slow the game down a little and take the shots we want to take on offense."
The Jackson girls are certainly not the best shooting team in the conference but they are getting better. The Lady Broncs 4.8% field goal percentage is 10th out of 16 teams.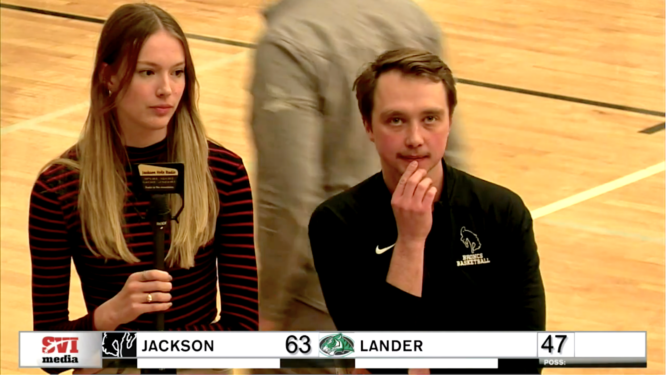 Green River Saturday
Green River has been solid the past few years under strong coaching and a seemingly endless supply of talent.
In her 6th year heading up the boys program, coach Laurie Ivie always has her kids ready to play. Overall team numbers are middle-of-the-pack right now, but the Wolves (5-3) usually turn it on come March.
The boys are well-balanced with outside shooters Jax Peterson and Dylan Taylor, both seniors; and a strong inside game with twin towers Cole Murray and Dillon LaRose, both 6'7".
"Green River, all the way around, is a really good team,' Hatfield said. "Point guards—Ivies' son [Kason], and Dylan Taylor is one of the best players on this side of the state. Really physical player, likes to get down low. We have a lot of respect for him."
The Lady Wolves are perhaps even more dangerous under the direction of Rick Carroll. Senior Megan Counts has been leading the team for three years now. Scoring, rebounding, takeaways—there is nothing the 6-footer doesn't do well. She's supported by Gabby Heiser's 3-ball, along with Sarah Wilson and Daryn Macy's steady guard play.
The Lady Broncs will have to score with the Lady Wolves if they want to hang around Saturday.
---
Jackson vs Star Valley at Afton. Friday 6:00pm girls, 7:30pm boys.
Green River vs Jackson at Jackson. Saturday 12:30pm girls, 2:00pm boys.
All games on KZ95 and SVI Sports Network.