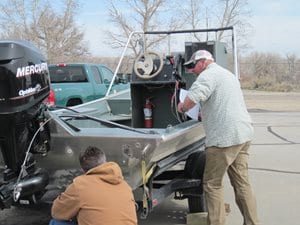 The Wyoming Game and Fish Department's work to keep invasive species like zebra and quagga mussels, out of the state's waterways was a lot of work last season. Officials say the longer hours and extended season allowed them to inspect more than 65,000 boats. As a result, Wyoming is one of a few states in the nation to be free of quagga and zebra mussels.
Game and Fish personnel conducted nearly 5000 high-risk watercraft inspections inspections due to the discovery of zebra mussels in South Dakota near the Wyoming border.
Boats must be checked in Wyoming
The AIS check stations are called the first line of defense against invasives entering the state or being spread between Wyoming's waters. Those range from invasive plants like curly pondweed, which exists in Wyoming, to species that the state has managed to keep out, like Asian carp and zebra or quagga mussels.
Wyoming requires any watercraft transported into the state between March 1 through Nov. 30 must have a mandatory inspection by an authorized inspector prior to launching. All watercraft must stop at any open watercraft check station on their route of travel, even if not intending to launch in Wyoming.
Fifty-eight boats were discovered with mussels at Wyoming check stations in 2022.
AIS rules in Wyoming keep invasive species out
• Any watercraft that has been in a waterway infested with zebra or quagga mussels within the last 30 days, is required to undergo a mandatory inspection by an authorized inspector prior to launching during ALL months of the year to keep invasive species out. Waters that are positive for AIS are often posted at boat ramps and launches. A list of waters suspect or positive for invasive mussels and other information is available here.
• Any watercraft transported into the state from December 1 through the last day of February that has not been in a water infested with zebra/quagga mussel within the past thirty days and did not encounter a mandatory aquatic invasive species check station prior to reaching a water of the state, may launch without a mandatory inspection.
• All boaters must stop at established AIS check stations at ports of entry, border locations, or at boat ramps and are set up to ensure watercraft are clean, drained, and dry before launching. Inspections are also available at WGFD Regional Offices during normal business hours. A list of locations is here: Watercraft Inspection Locations.
• All watercraft must have a valid Wyoming AIS decal before boating on any waters of the state. They are available online, at regional offices, and at automated license vendors.
• All visible vegetation must be removed from a watercraft/trailer once it leaves the water. Boaters must drain all water from watercraft and all bilge, ballast, and live well plugs must be removed while being transported by land in the state.
Game and Fish personnel are evaluating protocols for the 2023 boating season.