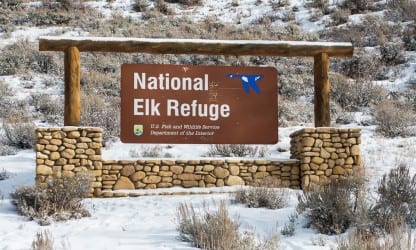 Even though game officials would have liked to wait a bit longer, The National Elk Refuge Supplemental feeding operation has begun for the season.
The feeding started Wednesday which was about two weeks earlier than the long-term average start date.
That's because of dense, icy snow conditions and high numbers of elk gathering on the south end of the Refuge.
Refuge personnel try to wait to begin feeding each season as part of the Elk Refuge's Feeding Reduction Step Down Plan.
Supplemental elk feeding keeps herd on refuge
But recent counts showed that the elk were starting to leave in search of more forage on private land west and northwest of the Refuge. The decision to start supplemental feeding yesterday was based on this observation.
Eric K. Cole, the Senior wildlife biologist for the Elk Refuge, reported that more than 6100 elk were counted in the southern part of the survey area. 60-70 bighorn sheep have regularly been near Miller Butte.  Only a handful of bison were reported, but those numbers were expected to increase with the start of feeding operations.