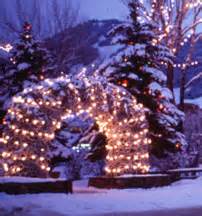 The Jackson Hole Chamber of Commerce will present the annual Town Square Lighting Ceremony on Friday, November 25 from 5:00-7:00pm on Jackson's Town Square.
This favorite holiday event features a visit from Santa Claus, holiday music and Christmas carols, cookies, and hot chocolate. Thousands of LED bulbs will be wrapped around the famous elk antler arches and strung around the stately trees. The lighting of the Town Square is a breathtaking moment as the bulbs sparkle to life. RSVP on Facebook! Click here.
Thanks to McDonald's and Albertsons for sponsoring Town Square Lighting! Thanks also go to Boy Scout Troop 268, Blue Spruce Cleaners, Jackson Hole Community Band, Jackson Hole Chorale, and the Town of Jackson.
Calling Volunteers: Would you like to be an elf? Helpers will be needed beginning at 3:15pm for setup prior to the event and to for crowd control during the event. Friends and families are invited to participate together! 
For more information and to sign up to volunteer, please contact Renee Leone, Events Coordinator, [email protected] or 307.201.2309.