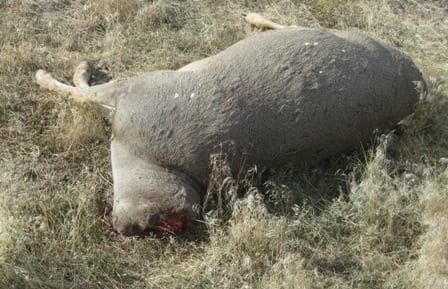 In one of the largest poaching cases in Wyoming history, three men were convicted of more than 100 wildlife violations. The charges were the result of a seven-year, multi-agency investigation that spanned four states and involved thousands of hours of investigations and efforts by state and federal wildlife law enforcement officers, county and federal prosecutors, the Wyoming Game and Fish Department forensic laboratory personnel and others. The charges were prosecuted across four different Wyoming counties.
Rick King, Game and Fish chief game warden said that investigating and successfully prosecuting a case of this size and scope required years of effort by many individuals and agencies.
King said, "Dozens of people worked hard to make sure that even though some of these violations occurred a decade or more ago, they would not go unpunished."
Russell Vick of Alabama, Robert Underwood of Oklahoma and David Underwood of South Dakota were convicted of numerous wildlife offenses.
The three were fined over 300000 dollars in restitution for wildlife violations.
Wildlife violations investigated by multiple agencies
"We particularly want to thank special agents with the U.S. Fish and Wildlife Service, state wildlife law enforcement officers in Oklahoma, Alabama and South Dakota, as well as several Wyoming game wardens who investigated violations that took place within their districts," King  said. "We also appreciate the many hours spent by the Campbell, Park, Sheridan and Weston county attorney offices to make sure appropriate charges were filed to reflect the seriousness of these wildlife violations. Additionally, assistant U.S. Attorneys at offices in Lander, Rapid City, South Dakota, Oklahoma City, Oklahoma.; and Birmingham, Alabama., spent a significant amount of time preparing and drafting federal search warrants in their respective states. These search warrants allowed officers to seize and preserve evidence of the many crimes committed. Employees of the Game and Fish's Wildlife Forensic Laboratory diligently processed multiple pieces of evidence in this case and we give them our sincere thanks."